We are a connectional church.
First Presbyterian Church of Scottsburg is a member of the Scott Area Ministerial Association (www.shttp://samaministerial.org/)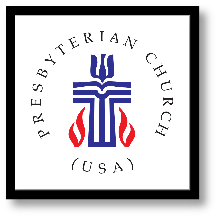 First Presbyterian Church is part of the the Presbyterian Church (U.S.A.) (https://www.pcusa.org/) and the Synod of Lincoln Trails (covering Indiana & Illinois)  (https://lincolntrails.org/).
First Presbyterian Church is one of over 70 congregations in the Presbytery of Ohio Valley, which roughly covers the lower third of Indiana (from Evansville to Columbus & from Terre Haute to Madison).  (http://www.presbyteryov.org/)

Presbyterian Church (USA) Earth Care Congregations:  In keeping with our commitment to a faithful stewardship of God's creation, our congregation embraces the practices necessary to being recognized as an Earth Care Congregation within our denomination.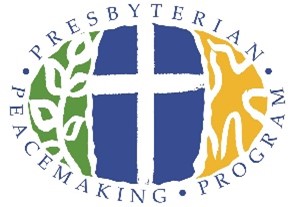 Presbyterian Church (USA) Peacemaking Commitment:  In acknowledgement of the importance of peacemaking as an expression of our discipleship FPC-Scottsburg has taken, and annually renews, its commitment to the Presbyterian Church (USA)'s Peacemaking Pledge.
Presbyterian Church (USA) "Four for Four" Congregations:  In support of the many and varied ministries of our larger church, we contribute generously to each of the PC(USA)'s four special offerings: the Christmas Joy Offering, One Great Hour of Sharing, the Pentecost Offering and the Peace & Global Witness Offering.
The Center for Congregations, based in Indianapolis, strengthens Indiana congregations by helping them find and use the best resources to address their challenges and opportunities.  We have been blessed through the years by the Center's partnership in helping us deepen and strengthen our congregational life and ministry to the Scottsburg community.   (https://centerforcongregations.org/)
Bread for the World is an ecumenical, non-partisan ministry committed to advocacy on behalf of people facing hunger and food insecurity, at home and abroad.  Our congregation partners with churches of various denominations from Indiana's 9th Congressional District in the annual Offering of Letters to our congressional legislators.  (https://www.bread.org/)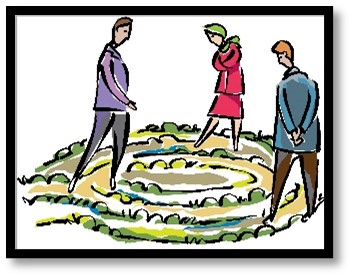 The Labyrinth on our Maranatha House Lawn: A labyrinth is a geometric pattern with a well-defined pathway that winds its way to the center and back out again. Unlike a maze, there are no tricks in the pattern, no wrong turns, no dead ends. All you have to do is put one foot in front of the other and follow the meandering path, and you will reach the center and come back out again.
Labyrinths have existed for over 3,500 years and have been adopted by many cultures for a variety of uses. In the Middle Ages, labyrinth designs made their way into churches and cathedrals in France and northern Italy. These were typically inlaid in the stone floors of the nave of the church, like the famous one in Chartres, France.
Walking the labyrinth is embodied prayer. It is a symbolic action that can bring meaning into everyday reality; a place of integration, of focus; a place to discover or recover the desire of one's heart. Our outdoor labyrinth is open and available to all who may come seeking a place of reflection, renewal and rest.